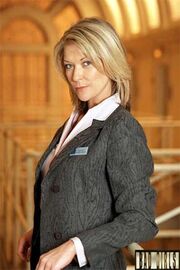 Grade
Wing Governor. Was demoted to Principal Officer on G-Wing for a brief time after Neil's arrival (s4ep3).
Background Joined the WRAF aged seventeen and qualified there as a state registered nurse. From there she joined a London hospital but then left to join the Prison Service. She is a divorcee with a grown-up son, Ross.
Profile Karen is a self-made, working-class woman and her great advantage as a Wing Governor is that she came up through the ranks. She's comfortable dealing with even the most dangerous inmates and is all too aware of the shortcomings of several of her colleagues. She has absolutely no patience with the old-style union culture of the POA, but unlike her predecessor Helen Stewart, she tempers her reformist zeal with pragmatism.
Although fair, Karen is also very firm and never suffers fools gladly. It's just a shame that the same rules don't apply to her personal life - her weakness for complete bastards like Jim Fenner and Ritchie Atkins ultimately proved to be her downfall.
Last seen... Turning up with the evidence to prove that Fenner had set her up for a fatal hit-and-run incident (s6ep12